It's always a good day when Nicki Minaj decides to bless us with a new song that shows us why she's currently running things in the rap game. Yesterday she took to Instagram to post a snippet of a remix she did for Yo Gotti's "Down In The DM" and she could've shut shit down with those ten seconds alone. I mean with a line like, "If it goes down in your DM then baby boy you lucky/ Cause 99.9 percent of these fu*k boys can't fu*k me." Let me post the snippet if you didn't automatically combust from the heat of a line that simple yet so perfectly executed.
Minaj has been pretty quiet on the music front since releasing her third album The Pinkprint back in 2014 and featuring on a couple singles last year. With a movie coming this year, a tv show in production and a slew of other ventures, I guess the lack of new music is understandable but when she's releasing stuff this good I can't help but want more from the Trinidadian mogul. Power 105.1 premiered the "Down In The DM Remix" this morning and Twitter is already letting Nicki know what's good.
I AM FUCKING BLOWN AWAY AT ALL THE WORD PLAYS SHE SPIT THAT FIRE OMFG 😱🔥😍 #DownInTheDmRemix

— Jonny Maraj (@Cigarosycerveza) February 4, 2016
The way you switched the flow up like 3 times my nig 😫👊🏾🙌🏾👑🔥🔥!!! @NICKIMINAJ #DownInTheDMRemix

— StudBarb™ (@Onikababee) February 4, 2016
@NICKIMINAJ Thaaaaat veeeeerse 😭 #DownInTheDMRemixpic.twitter.com/aVjjEvxJPo

— Gotham (@Snizzle_6) February 4, 2016
I agree with the Babrz, the "Down In The DM Remix" slays and if you can't appreciate the consistent fire Nicki brings then…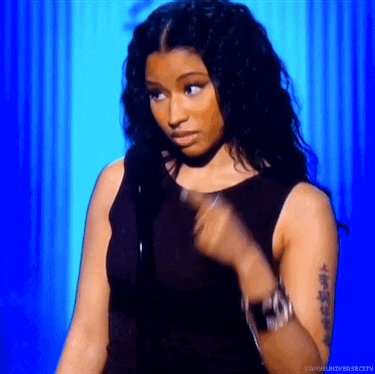 What do you think of Nicki's remix? Let me know in the comments!